FAGOR ARRASATE´s laser blanking system combines a fiber laser cutting machine with an automatic metal coil feeding system, resulting in an efficient coil fed laser cutting solution.
The laser blanking line provides finished laser cut parts directly from a coil, resulting in a more flexible and efficient production. It offers many advantages compared to blank fed systems thanks to the use of a coil, such as savings on raw material due to its better material efficiency, consistent work rates and a lower cost per part.
Laser blanking technology also reduces power consumption compared to alternatives such as press lines.
Advantages in comparison with conventional laser cutting
Major savings in materials, with reductions of up to 15% in the cost of raw material, which in turn translates into a lower cost per processed part.
Better use of the sheet metal, optimizing part distribution and considerably reducing the percentage of wasted material.
Constant working rhythm and reduced machine downtime: elimination of shut-downs caused by the need to change the work tables.
Advantages in comparison with presses
Smaller investment in adapting facilities and less space occupied on the shop floor.
Greater degree of flexibility for manufacturing short series, since no specific cutting tools are required.
Cost reductions due to less space being occupied, as a result of the elimination of unnecessary tools
Significant savings in both maintenance costs and times.
From the Idea to the Service
For FAGOR ARRASATE, each project is unique and the result of a careful study designed to find the best solution for each particular product. The LB machine is fully customizable in size, laser power, automation and working mode.
Share with us your part and we will come up with a customized project, from the idea to the service.
What Sets Us Apart
Separation and sorting of the finished part: our machines can separate cuttings and manage dynamic nestings with automatic sorting of finished parts.
Option to automate systems: multiple automation solutions in both coil feeding and automatic stacking of finished parts.
Combination of different technologies in a single system: comprehensive systems which combine laser technology with different bending solutions.
Your Best Partner for the Digital Revolution
At Fagor Arrasate, we want our customers to get the very best performance from their installations, which is why we have developed various technologies for optimizing processes, increasing productivity, remotely monitoring installations and improving production quality, all encompassed by the FAGOR SMART-CONNECT concept.
The numerous installations throughout the world where these innovative systems are implemented, make Fagor Arrasate the best partner for the Industry 4.0 revolution.
Our commitment is to offer expert, close and direct service.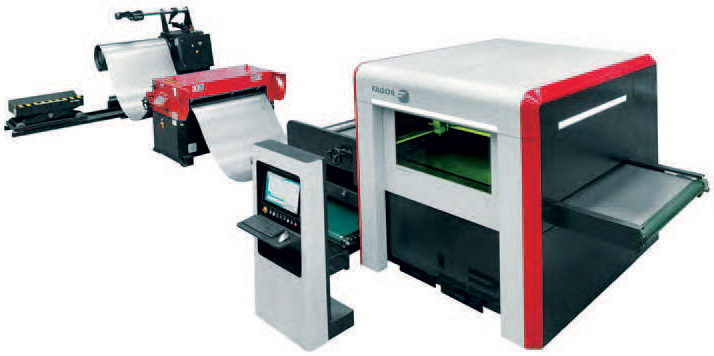 See What FAGOR ARRASATE Can Do for You